Magic of Lights Holiday Drive Through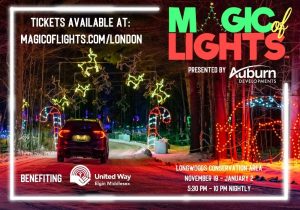 While Longwoods Road Conservation Area is proud to be the venue of Magic of Lights – London, we are not the official ticket sellers and cannot provide tickets to the show.
If you are looking to purchase tickets please go to: www.magicoflights.com/london
Longwoods Road Conservation Area is located at 8348 Longwoods Road, Mount Brydges (not London), 6.5 km west of Delaware and 10 km east of Melbourne.
The Magic of Lights is open from November 19, 2021 – January 2, 2022. From the safety of their own vehicle, guests will meander through the spectacular 1.8-kilometer drive-through holiday lights display. Tickets start at $23, and are limited in quantity per evening.
Giving back o the community is an integral part of Magic of Lights, and we are proud to be supporting United Way Elgin Middlesex this holiday season. A portion of every ticket sale will be donated to support continued investment in poverty reduction, affordable housing, and mental health services for children & families right here in our community. Join us in celebrating, spreading joy, and supporting our community.
Magic of Lights will open nightly, 5:30PM – 10PM. Please visit www.magicoflights.com/london for a complete schedule and to purchase tickets.
NOTE:  Longwoods Road Conservation Area remains open to the public daily from 9 a.m. until 4:30 p.m.  Our usual parking fees apply during this time.
---
Longwoods Road Facility Rentals and Programs  info@ltvca.ca
Tel: (519) 264-2420
Conservation Areas Fee Schedule
LTVCA Conservation Area Regulations
LTVCA Conservation Area and Camping Rules
The Lower Thames Conservation Authority acquired this 63 hectare property in 1964.
No Hunting.
Conservation Areas are NOT off-leash dog parks. ALL DOGS AND PETS MUST BE LEASHED. UNLEASHED PETS ARE A FINEABLE OFFENCE. CLEAN-UP AFTER YOUR PET! Section 10.-(2) and (3) Under the Conservation Authorities Act.
Hours of Operation
Longwoods Road Conservation Area grounds and Ska-Nah-Doht Village
Open 7 days a week 9 a.m. to sunset (during November – entrance gate closes at 4:30 p.m.)
May be CLOSED due to weather or road conditions.
Resource Centre / Museum Building
We have developed a safe opening plan for the Resource Centre and Ska-Nah-Doht Museum!
Daily open times of Museum to the public will vary – Check weekly here and on our social media for Museum hours.
We follow COVID-19 safety guidelines as set by the Provincial government and Middlesex-London Health Unit. 
Upcoming Resource Centre / Museum PUBLIC Hours (times will vary every week)
Mon., Dec. 6, 10:00 a.m.- 4:00 p.m.
Tues., Dec. 7, 11:30 a.m. – 4:00 p.m.
Wed., Dec. 8, 10:00 a.m. – 4:00 p.m.
Thurs., Dec. 9, 10:00 a.m. – 4:00 p.m.
Sat., Dec. 11, 10:00 a.m. – 4:00 p.m.
Day Use Parking Fee
General public day use visitors please pay $5 parking fee at the Pay and Display machine located at the entrance to the conservation area – coin or credit card only.  Display ticket on vehicle dashboard.  Thank you for supporting this conservation area!
Note:  Alternative fees apply for group camping, pre-booked education program and other program/facility rentals.
Mailing Address
8449 Irish Drive, RR#1,
Mount Brydges, Ontario N0L 1W0
Physical Location
8348 Longwoods Road
Mount Brydges, Ontario  N0L 1W0
Directions
Longwoods Road Conservation Area is located at 8348 Longwoods Road (Middlesex County Road 2), Mount Brydges, Ontario.  6.5 km west of the village of Delaware and 10 km east of the village of Melbourne.
Coordinates (soon)
Features
Ska-Nah-Doht Village is the key feature situated within the Longwoods Road Conservation Area.  Three heritage log cabins are also found onsite.  A Resource Centre / Museum houses artifact and conservation displays, the Turtle Trail Gift Shop,  and theatres for video presentations.  Additional facilities can be rented including a large picnic shelter and a group camping area for Scouts and Guides.  Ten kilometres of nature trails (some wheelchair accessible) meander through the forested areas and ravine systems, with boardwalks, staircases and bridges showcasing beautiful views along the way.  Educational programming and special public events are popular year round attractions.
Download Aerial Shot of Longwoods and Ska-Nah-Doht!  
From "Traverse the Thames" – an awareness & appreciation campaign for the Thames River by local filmmaker Mark Drewe and his company Mosaic Mind Pictures.  Mark & three other Londoners planned an eight-day 287 km canoe & kayak trip down the Thames during an awareness campaign & five-episode Rogers TV series.
Natural Features
Longwoods Road Conservation Area is located within the Carolinian Life Zone on the Caradoc Sand Plain.  The Mill Stream cuts deep ravine systems throughout the conservation area's forests, and eventually drains offsite into the Thames River.  Wildlife abounds with many bird and animal species.  A provincically significant wetland has formed along the Mill Stream and can be viewed from a boardwalk system.
Map (soon)