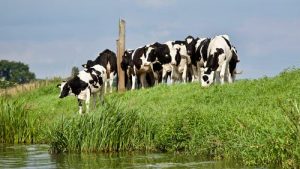 Livestock with Access to a Watercourse
When livestock have access to a watercourse, the long-term effects tend to be negative for both the livestock and the watercourse. Livestock are more likely to experience health concerns due to poor water quality, including increased disease (e.g. foot rot, black leg and/or mastitis) and decreased weight gain. Fields and watercourses are negatively impacted by increased levels of bank erosion, riparian vegetation loss, aquatic sedimentation and fecal contamination which can lead to Escherichia coli (E. coli) outbreaks.
Solutions:
The best solution for preventing livestock from accessing a watercourse is through the installation of exclusion fencing and provision of an alternative water source. Watercourse crossings can also be used to allow livestock to cross a watercourse without detrimentally impacting water quality.
Benefits:
The exclusion of livestock from a watercourse is beneficial for both livestock and the environment. Expected benefits include:
livestock experience fewer health issues and increased weight gain,
streambanks are less likely to erode,
watercourses have less fecal, bacterial and sedimentation loads and
fish, mussels and other aquatic organisms benefit from improved water quality.
Additional Information:
For assistance and technical expertise regarding exclusion fencing and alternative water sources, contact the Lower Thames Valley Conservation Authority by email at stewardship@ltvca.ca.