The Living Laboratories Initiative is an integrated approach to agricultural innovation that brings farmers, scientists, and other partners together to co-develop, test, and monitor new practices and technologies in a real-life context.
Led by the Ontario Soil and Crop Improvement Association (OSCIA), Living Lab – Ontario project collaborators include farmers, agricultural and conservation organizations, and scientists from Agriculture and Agri-Food Canada and Environment and Climate Change Canada. Their research focuses on reducing the soil and nutrient runoff from agricultural land into Lake Erie, improving water quality, conserving soil health, and increasing biodiversity on agricultural lands in Ontario.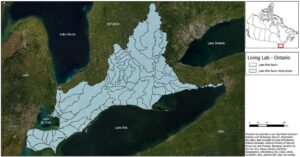 Living Lab – Ontario is located in the Lake Erie basin, which is in the southwestern region of the province. On-farm research is being conducted at multiple locations on landscapes that reflect the varied geography and agricultural production in the Lake Erie basin. Research is also being conducted in watersheds in the upper and lower portions of the basin.
Collaborators:
Lower Thames Valley Conservation Authority
Living Lab Activities Include:
Innovative On-Farm Trials
Watershed Management
Socio-Economic Studies
Engagement, Education and Outreach
Scientific Activities Related to Soil Health and Biodiversity
Additional Living Resources:
Upcoming Ontario Living Lab Field Days and Events
To Be Announced