Ska-Nah-Doht Village and Museum
Our Mission
Ska-Nah-Doht Village and Museum is an interactive museum that engages the public in the preservation and presentation of local First Nation history, through experiences both on-site and in the community.
Our Vision
Ska-Nah-Doht Village and Museum is a community leader in collecting and preserving local history, while faithfully interpreting the Haudenosaunee – People of the Longhouse.
Location
Ska-Nah-Doht Village and Museum is located within Longwoods Road Conservation Area.
Enter at 8348 Longwoods Road
Mount Brydges, Ontario
You can also find us on Facebook and Instagram at @skanahdoht.
Admission
Admission to Ska-Nah-Doht Village and Museum is FREE with your parking pass!
Parking at Longwoods Road Conservation Area is $5 per vehicle, payable at the auto-attendant at the entrance of the conservation area, or with purchase of a Lower Thames Valley Conservation Authority Annual Parking Pass.
Hours of Operation
Ska-Nah-Doht Village:
Open daily from 9 a.m. to sunset.
May be CLOSED due to weather or road conditions.
Ska-Nah-Doht Museum:
Open daily Victoria Day through Canadian Thanksgiving from 10 a.m. to 4 p.m.  However, the Museum/Resource Centre will be closed if staff are outside teaching.
Ska-Nah-Doht Museum also acts as the Longwoods Road Conservation Area Resource Centre.
Events
Visit the Lower Thames Valley Conservation Authority Events Calendar for more information about upcoming events at Ska-Nah-Doht Village and Museum, and throughout the watershed.
From 1000 to 50
Ska-Nah-Doht (from the Oneida words Ska nah: tote̲'̲ which mean "the village stands again") Village and Museum celebrates its 50th Anniversary in 2023!  Ska-Nah-Doht was conceived by four educators during a road-trip to Toronto in 1966. It features a recreation Longhouse Village, Heritage Log Cabins, and an indoor museum.  Ska-Nah-Doht Village and Museum is owned and operated by the Lower Thames Valley Conservation Authority.
The Village is reflective of those inhabited by the Haudenosaunee along Antler River (or the Thames River) close to 1,000 years ago. Find your way through the palisade maze. Then enter a longhouse and imagine cooking supper in a clay pot over a roaring fire. Pretend to grind corn into flour in a wooden mortar and pestle.
The Village has undergone many changes over the years but, as always, the information we share is based upon knowledge shared with us by local First Nations community members and archaeologists who continue to conduct research into the history of this area 1000 years ago. Though the Village is not built on an actual site, three Haudenosaunee Villages were located within proximity to our recreation in the years 800 to 1200 CE. Two sites, the Kelly site (AfHi-20) and the Yaworski site (AfHi-21), excavated in the early 1980s, are located within Longwoods Road Conservation Area.
The Museum and the Turtle Trail Gift Shop are located in the Longwoods Resource Centre. The Museum offers hands-on exhibits of First Nations culture and displays of artifacts from the museum's archaeological collection. The excavation of two archaeological sites on the property comprise the majority of artifacts in the museum's collection. The evidence confirms the sites to be from the Glen Meyer period (800 to 1200 CE), a perfect compliment to the Ska-Nah-Doht Village. More information about these sites can be found by contacting the Ontario Archaeological Society (OAS).
Accessibility
Ska-Nah-Doht Village is wheelchair accessible, weather permitting.
Ska-Nah-Doht Museum is located on two floors, however a tablet with digital versions of exhibits not located on the main floor is available to those with mobility considerations.
Accessible parking is available outside of Ska-Nah-Doht Museum / Resource Centre.
Not able to make it to Ska-Nah-Doht Village and Museum in person? Reach out to us at [email protected] or call 519-264-2420 for access to our digital content.
What Does Our Logo Represent?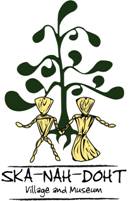 The white pine draws from the iconic "Tree of Peace" which traditionally represents the coming together of all the Haudenosaunee nations. At Ska-Nah-Doht we encourage a coming together in an open exchange of ideas and knowledge with open hearts and open minds.
The two corn husk dolls symbolize the balance and harmony of nature. As an agricultural society, corn denotes an important nourishment of life for the longhouse. A popular Haudenosaunee legend features corn as one of the Three Sisters along with squash and beans. Corn was valued as food, medicine and a versatile material to make everyday items such as mats, baskets and dolls. The overall stylization is based on the celestial bead work designs of the Haudenosaunee people.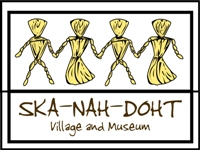 A second version of the logo without the tree and a second set of corn husk dolls was also created.
How You Can Help!
If what you see and hear about Ska-Nah-Doht is something that interests you, there is a way you can help. Ska-Nah-Doht Village and Museum is always accepting applications for volunteer positions and roles on our Advisory Committee.
Every year the Lower Thames Valley Conservation Authority is committed to raising thousands of dollars for renovations and repairs to this recreated longhouse village. You Can Help!  Each $10.00 donation buys 1 pole for the palisade. Tax receipts are available for donations over $20.00 (Registered Charitable Number: 107646580RR0001).
Download the Ska-Nah-Doht Village & Museum Resource Guide