Delaware – Come on out to the Sharon Creek Conservation Area on Saturday, July 7th for a 10 a.m. for an open-air presentation by Brian Salt from the Salthaven Wildlife Rehabilitation & Education Centre (weather permitting).  Everyone is welcome!  Brian will be at Sharon Creek to talk about his passion:  treating sick, injured and orphaned animals at the Salthaven clinic located in Mount Brydges, just minutes away.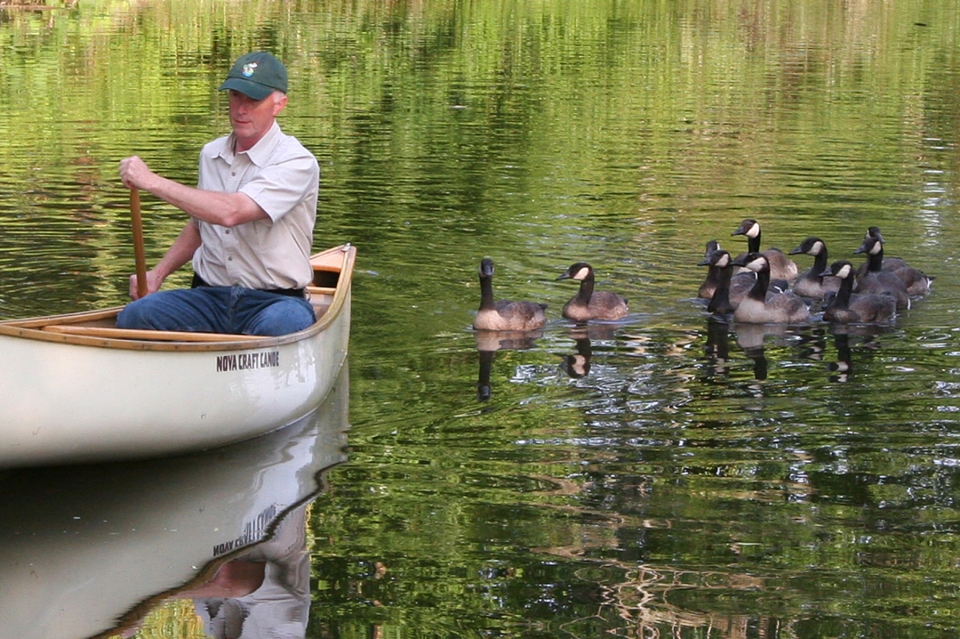 According to his bio, "Salthaven has treated and released thousands of animals back into the wild;  from foxes to fawns to falcons, and more.  Whether it flies, burrows or slithers, there's a healing hand and open heart waiting at Salthaven from Brian and the clinic volunteers.  As well as overseeing the clinic, Brian is active in spreading the word about what people in the community can do to help protect wildlife and the environment."  As noted on their website:  "Salthaven Wildlife Rehabilitation and Education Centre is committed to the care and rehabilitation of sick, injured, orphaned or otherwise compromised wildlife; our goal is to return healthy animals to their natural habitat. Through education we are dedicated to increasing public awareness about and respect for the issues affecting Canadian Wildlife." 
Upon your arrival, park and pay outside the main gate and walk back to the amphitheatre located down by the Springer Lake reservoir.  Daily admission to Sharon Creek Conservation Area is $4 per vehicle using the MacKay Pay phone payment method.  Through this smart phone app, visitors can pay $4 per day, or for frequent visiting, consider the purchase of a year permit that provides additional day use access to all other LTVCA Conservation Areas including Longwoods Road and C.M. Wilson.  Directions as to how to download the app or how to pay without a smart phone are on the signs at the entrance to Sharon Creek Conservation Area.
The Mackay Pay Phone app is being implemented to streamline our payment methods, provide convenience for visitors and to also assist our enforcement officers who will be patrolling these areas.  Funds raised from the fees will provide upgrades to the facilities at these conservation areas to improve visitor experience.  If you do not have a smart phone, you can still purchase permits and passes in person at the Longwoods Road Conservation Area and the LTVCA Administration Building in Chatham during regular business hours.
What else is there to do at Sharon Creek Conservation Area?  How about canoeing, kayaking, stand-up-paddle-boarding, birdwatching, hiking, fishing, and picnicking?  Please remember that all dogs must be on a leash as per conservation area regulations.  Sharon Creek is also the London Canoe Club's summer home for casual drop in paddling.  Club members are welcome to come out, bring guests and sign out club equipment for use in the conservation area between Springer Road and Carriage Road.  Boat house hours will depend upon their volunteers' availability.  Besides the Springer Lake reservoir, a 7 acre tallgrass prairie and walking trails, facilities also include port-a-johns and 2 canoe docks, however, there is no drinking water or hydro on site.
Sharon Creek Conservation Area is located at 4212 Springer Road, southeast of the village of Delaware, in the Municipality of Middlesex Centre. From Delaware follow Longwoods Road (Middlesex County Rd. 2) east. Take Springer Road south 2 km from Longwoods Road.
For further information:
Bonnie Carey – Community Relations Coordinator
Email:  Bonnie.Carey@ltvca.ca
Tel:  (519) 264-2420
Lower Thames Valley Conservation Authority, 100 Thames St., Chatham, On N7L 2Y8