Glencoe – by Dan Brinkman and Mary Simpson 
Tree planting season, one of the busier times of the year for Lower Thames Conservation, lasts from early May to early June. This year saw over 90,000 trees distributed and planted across the watershed, many on private property owned by landowners who see conservation projects (establishing forests, wetlands, and tallgrass prairies) as an essential, and enjoyable, aspect of being stewards of the land.
Landowners Mary Simpson and her husband Ross Snider are the current stewards of 'Old River Farm', south of Glencoe, a 200 acre farm bordering the Thames River and Newbiggen Creek in Middlesex County. This property has been in the Simpson family since it was cleared in the 1830s and is being used as a beacon to demonstrate sustainable farm practices and to showcase the benefits of retiring marginal farmland back to native tallgrass prairie, wetlands, and forests. In Mary's own words, excerpted from a story she wrote:
"The Old River Farm is one of those beautiful river properties – a sacred place. Agriculture has dominated the acreage since it was cleared" says Simpson, "but 40% of the farm is creek lands and river flats and really, they belong to the Thames. In February 2018 when the river rose so high, the Thames reminded us who owns the flats!"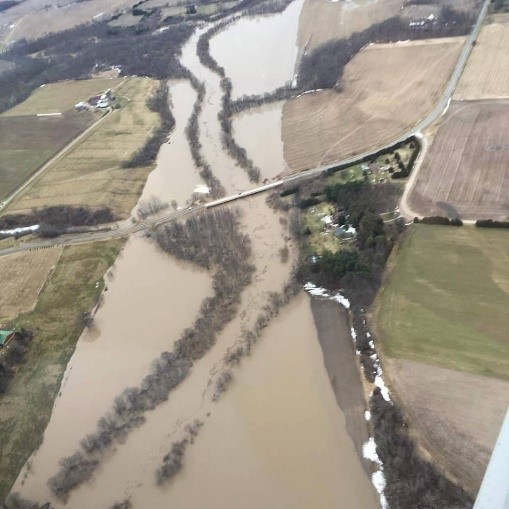 "Back in the spring of 2017, I called Lower Thames Valley Conservation Authority to see how we could support those riparian lands. Colin Little, the Agricultural Program Coordinator, moved quickly. We assembled a great team and found joint funding: Ducks Unlimited, The Great Lakes Guardian Fund, and Species at Risk Farm Incentive Program. Our project was underway late August.
"At the same time, I joined the Participant Advisory Committee (PAC) for the newly formed Alternative Land Use Services (ALUS) Middlesex project. My wetland project started up before the local ALUS chapter got going, but I'm hoping it will be a local example of what can be done. The great thing about ALUS is that it offers an acreage-based payment for projects on marginal, ecologically sensitive parcels that provide life-sustaining ecosystem services such as clean air, clean water and wildlife habitat. With emerging precision agriculture tools, it will become easier and easier to avoid cropping on small marginal areas prone to erosion. And ALUS makes it easy for farmers to access project funding" Mary explains.
ALUS is a community-developed, farmer-delivered program that collaborates with local partners to target marginal, ecologically sensitive agricultural land to re-establish tallgrass prairie ecosystems, manage wetlands and provide ecosystem services such as flood mitigation, carbon sequestration and pollinator support. Projects are independently verified and subject to a financial reporting system. The idea is for the broader community to support farmers for managing their marginal land to benefit the environment and broader public good.
Recently, the Government of Ontario committed to halting the loss of wetlands by 2025 and achieving a gain by 2030. Infrastructure Canada, Ontario Ministry of Natural Resources and Forestry (MNRF), and Ducks Unlimited Canada (DUC) partnered to implement a wetland restoration program.  ALUS, which is spreading county by county across southern Ontario, is helping drive up the demand for wetland projects in the Lake Erie Watershed.
"Ducks Unlimited Canada has been supporting wetland work for years" says Simpson, "so it was great to see them receive the $1.9 million from the Province to aid in research projects, restoration and wetland conservation across Southern Ontario. That is where part of our funding came from."
"Starting with 6 acres of the flats, we excavated four duck ponds plus a pairing pond, established a tall grass prairie, and installed wood duck houses, snake hibernaculum, and pollinator hotels. A local community group helped with the tree and plug plantings. The disturbed slope was sculpted to 3 terraces that will be great for special permaculture plantings. Fill from the ponds repaired two eroded gullies. And while the excavator was on site, an existing pond overflow got fixed and some run off problems were adjusted."
By connecting these wetlands to the Thames River, the surface water and agricultural runoff will now be intercepted before it enters the watercourse, not only benefiting the water quality but also providing a safe habitat for waterfowl and wildlife.
Having an effect on the province's landscape—whether it be public or private is why DUC is committed to this strategy, says Darrell Randell, the DUC conservation specialist who provides wetland restoration support to projects on private and public lands in the Lake Erie watershed.
"That's the core of our business," says Randell. "For our vision to succeed, we have to work with private landowners. There are a lot of opportunities to restore wetlands. Sometimes people just need a little help in order to do it."
While the project on Simpson's property is still a work in progress, she says she'll never forget the happiness she felt when seeing those newly dug ponds fill with water for the first time. "It was exciting," she says. "I am so appreciative and thankful for all the support to do the right thing by this beautiful farm. The February flood reminds us that the flats really belong to the river. Ducks Unlimited Canada is doing its part to prevent flooding damage. The wetlands and prairie will help filter run off before it reaches the river and when the waters rise, the flats will do their part to slow the flood waters. This year, the Thames watershed was fortunate there was no ice jam. Next time, there might be an ice jam. And there will be a next time."
Beyond enhancing the ecological services of this property, the conservation projects undertaken by Mary and Ross have also served as a hub to bring conservation-minded people together at two community planting events: May 15th, to plant tree seedlings, and June 2nd, to plant tallgrass prairie plugs.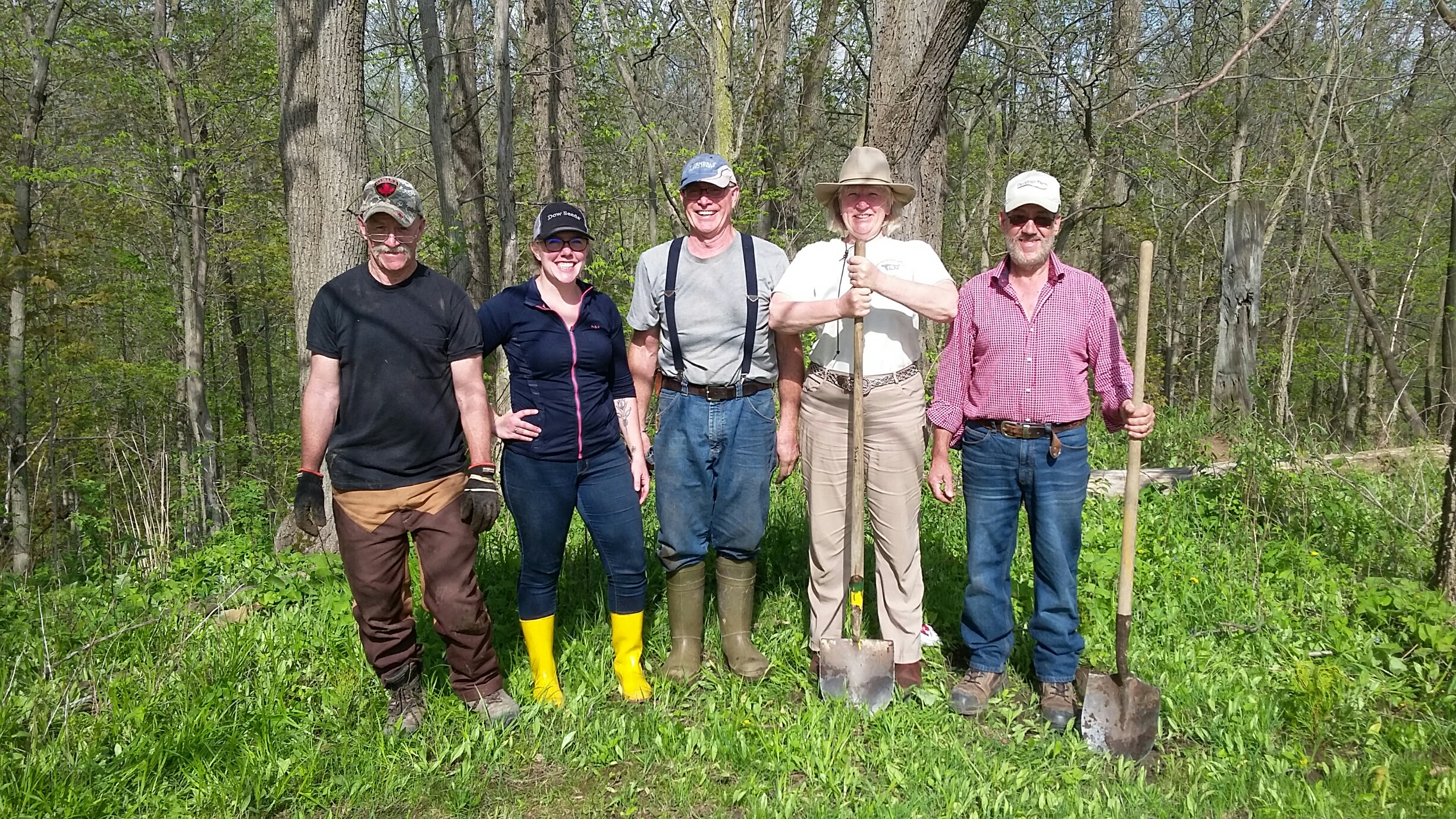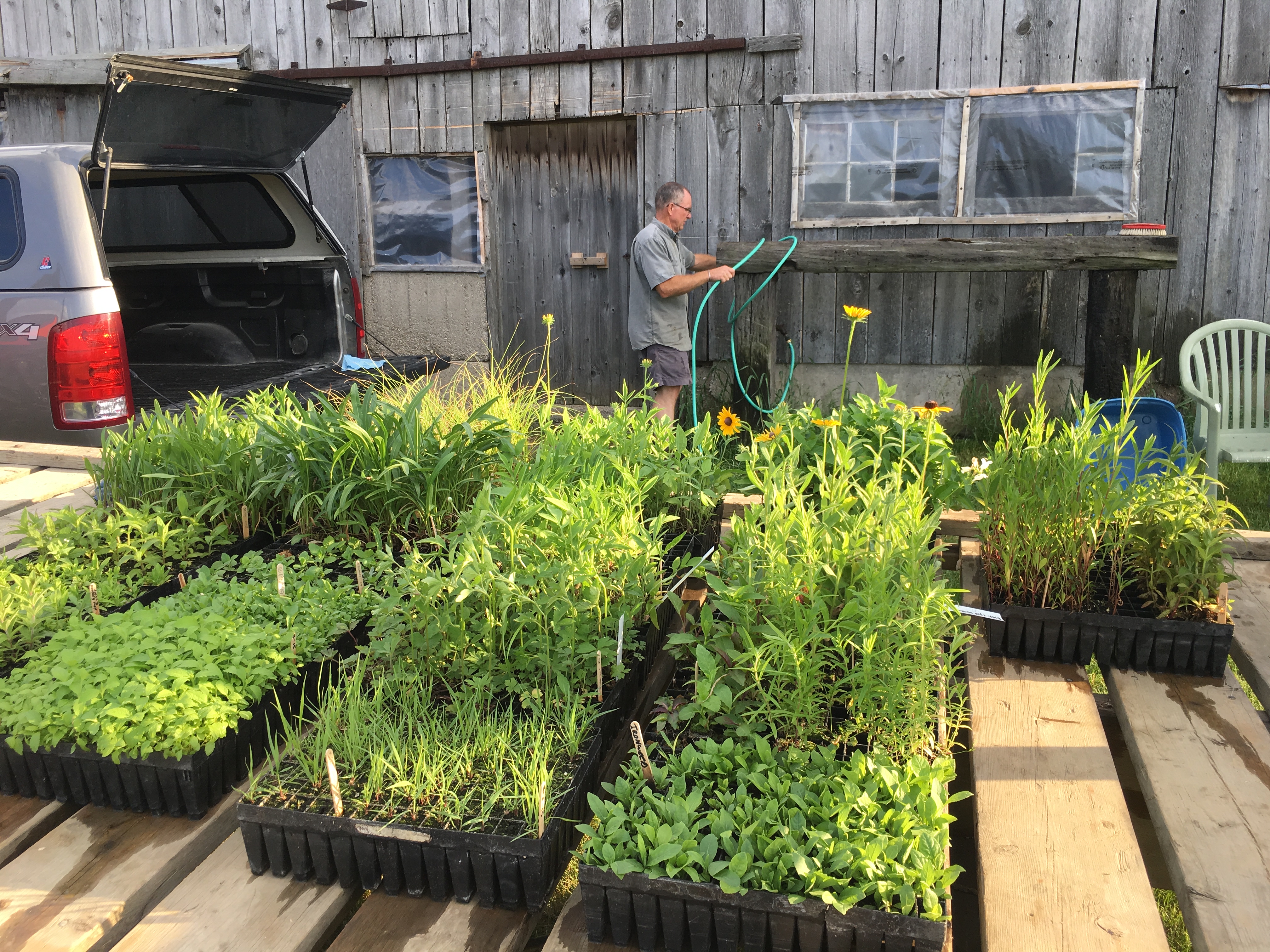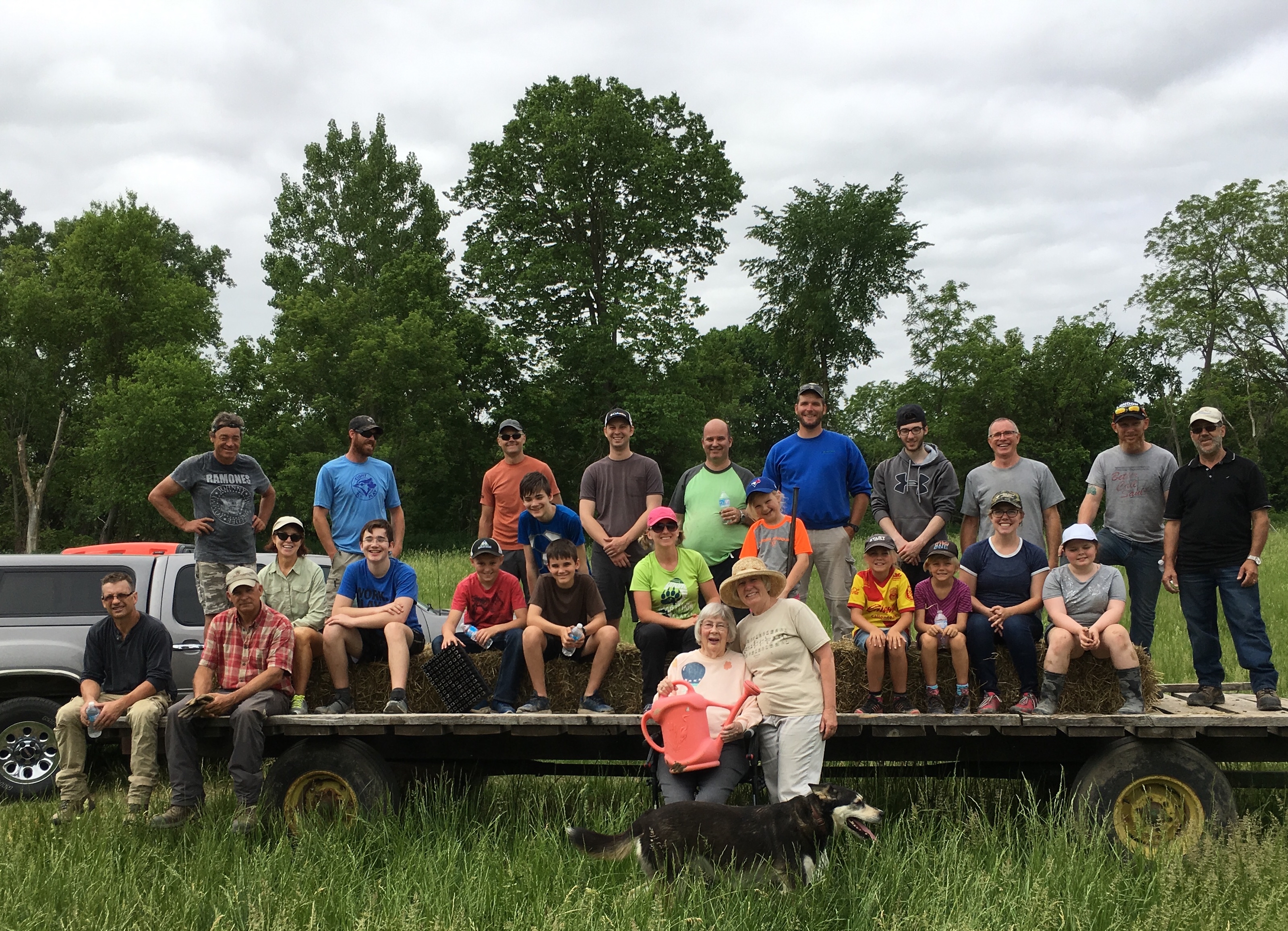 Lower Thames Conservation welcomes the opportunity to work with landowners and conservation partners and community groups to build up ecological and community connections.
 For Further Information Contact: 
Greg Van Every, Environmental Project Coordinator
Email:  greg.vanevery@ltvca.ca
Tel:  519 354 7310 x 229
Lower Thames Valley Conservation Authority, 100 Thames St., Chatham, On N7L 2Y8