2020 Annual Stewardship Report
McGregor and Jeannettes Creek Phosphorus Reduction Program
The2021 budget is now fully allocated.  All eligible applicants have been contacted and notified if their BMP projects were approved for funding during 2021.  Thank you for applying and participating in the program!   The LTVCA will still accept applications for projects, that will be placed on waiting list for review in the scenario that additional funds become available during 2021.  However, it should be noted that if you submit an application at this time, the LTVCA cannot guarantee that funding will become available or allocated to the project in the future.
McGREGOR & JEANETTES CREEK PROGRAM APPLICATION
---
The Lower Thames Valley Conservation Authority (LTVCA) is pleased to announce the launch of the McGregor and Jeannettes Creek Phosphorus Reduction Program. The voluntary program will be available to farmers in the McGregor and Jeannettes Creek subwatersheds from 2021-2022. The purpose of the project is to improve soil health and reduce the amount of agriculturally sourced phosphorus entering the Thames River, Lake St. Clair and ultimately the Western Basin of Lake Erie.
Agricultural Best Management Practice (BMP) incentives and technical support will be available to farmers to implement a targeted suite of BMPs within each subwatershed. Reductions achieved through the implementation of BMPs will be quantified through subwatershed monitoring and modeling activities to assist Ontario and Canada with meeting the Thames River 40% reduction target for total and soluble reactive phosphorus loads entering Lake St. Clair and Lake Erie. The goal of the target is to reduce the severity and development of green and blue algae blooms in the Lake Erie Basin.
Financial support for this program was provided by Environment and Climate Change Canada (ECCC). The Ontario Ministry of Agriculture, Food, and Rural Affairs (OMAFRA) Canadian Agricultural Partnership (CAP) is providing funds for the program applied research activities.
BMP Incentive Program:
Funding will be available for farmers to implement the following BMPs until the project budget has been utilized:
Cover Crops
Alternative Phosphorus Application Practices
4R Nutrient Management Services
Erosion Control Structures
Marginal & Sensitive Land Restoration
Farmer Innovative Solutions
Select the image of the program brochure to find out more information about the BMP incentives, eligible BMP projects, application and claim process.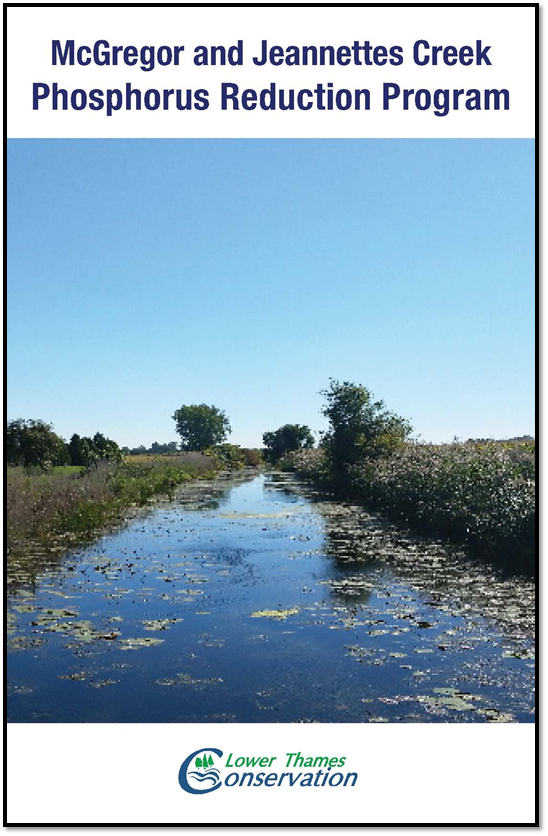 Program Eligibility Area:
To be eligible to participate in the program and receive funding the farm where you intend to implement a BMP must be located in the McGregor or Jeannettes Creek subwatershed of the Thames River.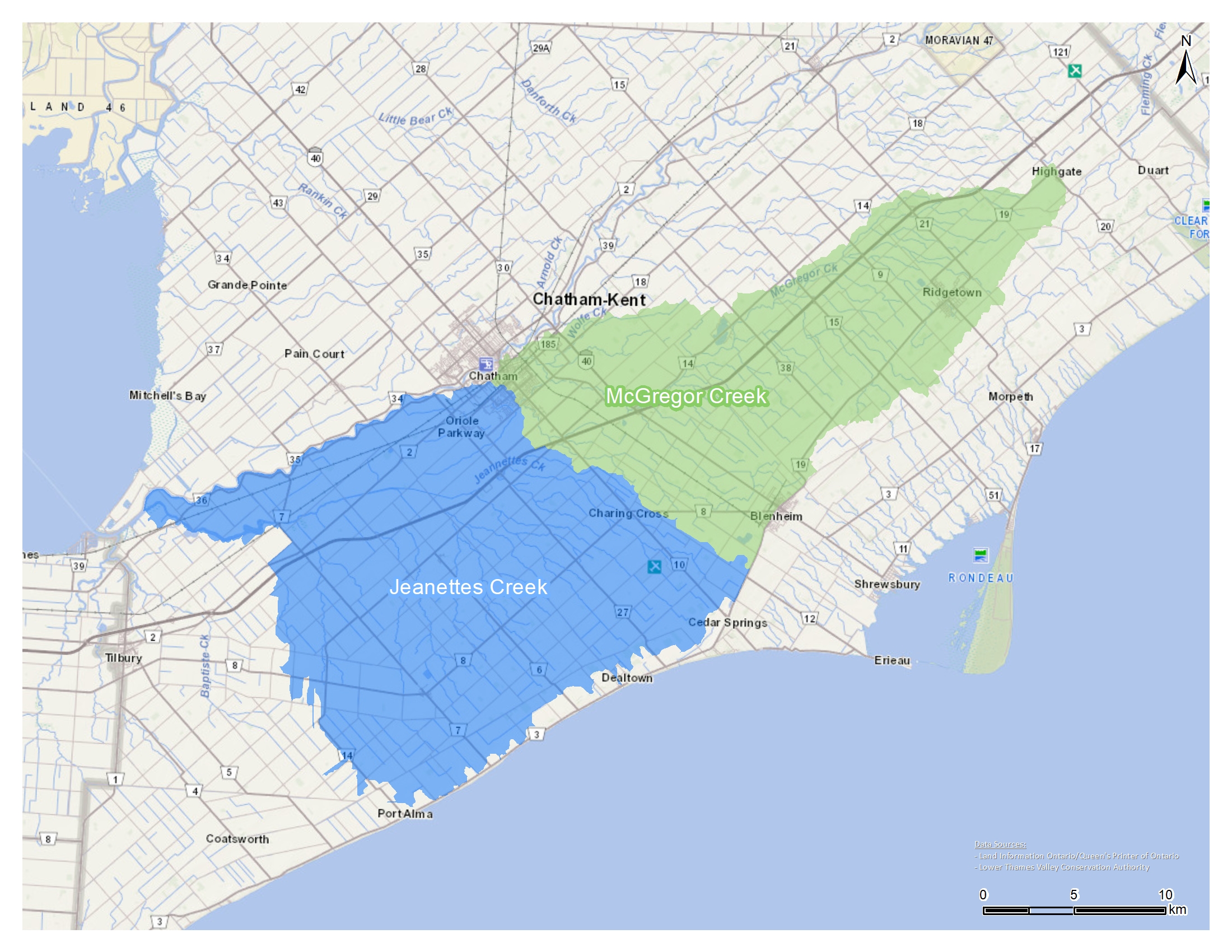 Other Pertinent Eligibility and Program Information:
You do not need an Environment Farm Plan to be eligible for the program.
Tenant Farmers are eligible for funding to implement BMPs on rented land.
Applications for BMPs must be submitted prior to implementation.
You must be willing to share farmer land activity data with the LTVCA to participate in the program.
BMP Cost-share and incentive funding is earmarked for your project upon the reception of an approval email or letter from the LTVCA. Cost-shares will not be distributed until the practice has been implemented and the LTVCA has received the required claim form/information.
Max contribution a farm or business can receive annually from this program is $7500.00
For Information Please Contact:
Colin Little
Agricultural Program Coordinator
Phone: 226-868-6005 
Colin.Little@ltvca.ca
Ryan Carlow
Soil and Water Quality Technician
Phone: 519-354-7310 Ext. 228  
Ryan.Carlow@ltvca.ca
Regional Phosphorus Loading Resources and Reports:
Font Size
Conservation Services