Chatham-Kent Children's Safety Village, Thursday, July 27 5pm-8pm:
The Chatham-Kent Children's Safety Village and C.M. Wilson Conservation Area are thrilled to announce the 2017 Canadian Coast to Coast Classic Vehicle Tour is stopping for 1 night only in Chatham-Kent.   Experience a special showing of these classic vehicles as they celebrate their 50th tour while Canada celebrates its 150th.  This will be a FREE public event.
This is a "trip of a lifetime" for coasters says Jerry Tremblay; Canadian Coasters member from Chatham-Kent who travelled with his wife early June to meet with the Coasters in B.C. to begin the journey.
Classic vehicles are driven all the way from the West Coast to the East Coast. They will rest for the night at C.M. Wilson Conservation Area and  proudly display their vehicles for the general public to view from 5pm-8pm on Thursday, July 27th in the Chatham-Kent Children's Safety Village "Village".  Come help us celebrate the Canadian Coaster 50th Tour and Canada's 150th Celebration together and show them some "southern hospitality" from Chatham-Kent.
Vendors will be available on site to purchase food and souvenir items to commemorate the day.
Directions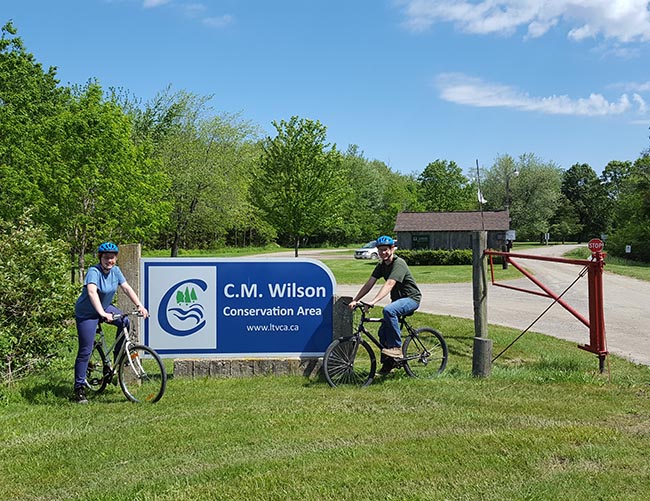 As of April 18th the Hwy 40 overpass will be out of commission, being demolished with a new overpass rebuilt in its place.  C.M. Wilson Conservation Area is located at 21799 Fargo Road just 8.5 km south of Chatham.  Here are the alternate directions while construction is underway:
To get to the CM Wilson Conservation Area from the 401, take the Bloomfield exit and head south on Bloomfield Road.  Turn left onto 8th Line (Eighth Line).  When you get to the stop sign, turn right onto Charing Cross Road and head south.  Turn left onto Horton Line, then left onto Fargo Road just before the railway tracks.  Go to the end of Fargo Road and CM Wilson Conservation Area is on the right hand side.
History about the Canadian Coasters
"Early in 1966 a group from Ontario, the Historical Automobile Club of Canada (HASC) started to promote the idea to have an Antique Car Tour that traveled across Canada.  Canada's Centennial was coming up in 1967 and what better way to promote the old car hobby and the Centennial.  Most known antique car clubs in Canada were contacted and invited to take part.  The tour started in Victoria, BC and traveled to St. John's Newfoundland.  Nine cars covered the total distance under their own power.  This tour was hosted by various clubs as it passed through their areas.  Hobbyists joined the tour where they wanted and stayed on tour as long as their holidays allowed. There were 125 official registrations.  This tour unified the car clubs coast to coast and was a big step to the formation of a Canadian Chartered Organization."
C.M. Wilson Conservation Area
"Step Into Nature!"  The Lower Thames Valley Conservation Authority owns and operates this 30 ha property. For nature lovers, the Carolinian forest and wetlands abound with birds and wildlife. A man-made lake offers fishing for bass, pike, catfish and bluegill and a place to put in your canoe or windsurf. Picnic areas, two adventure playgrounds and a campground provide fun for the whole family!  Rent a canoe or bicycle to explore the wonders of the lake and park grounds. A volleyball court is also available!
Chatham-Kent Children's Safety Village
"Injuries are the leading cause of death for people within the ages of 1 and 44 ".  The Chatham-Kent Children's Safety Village is a registered charity focused on saving the lives of children through injury prevention and interactive programs.
The Chatham-Kent Children's Safety Village has been recognized around the world for its Safety Endeavours.  The Chatham-Kent Children's Safety Village was built on the need to raise our children in an environment of safety concentrating on preventable injuries and health issues.
Injury prevention and life saving programs include a specific learning module "Tell Me, Show Me, Involve Me" in direct partnership with local Police, Fire, Paramedics, Utility Companies, Farm Professionals, Conservation Authorities and Health Professionals agree that children/everyone retain information better when they act out the learning process.
The miniature village encompasses regulation sized streets and sidewalks and miniature replicas of local businesses, traffic lights into a real life miniature Chatham-Kent – a must to see.
Since 2006, over 30,000 local children have been trained to predict and prevent deaths, injuries and disabilities.  In 2015 expanded programs now include adults, seniors, specialty groups, camps and additional grades for students.  Since 2009 – 29 local children in Chatham-Kent have been awarded and recognized at our annual Sparky, Elmer & Andy Safety Awards Banquet for their acts of heroism in saving lives, and contributing to a safer community.
The mission of the Chatham-Kent Children's Safety Village is to create a safety minded, healthy community by reducing preventable injuries and deaths through specialized programming and camps.
If you have any questions please feel free to call us at 519-360-1270. Hope to see you there!
 "LTVCA acknowledges the financial support of our 10 watershed member municipalities, our many granting partners and dedicated volunteers."
For Further Information Contact: 
Barb Lovell
Chatham-Kent Children's Safety Village
Phone 519-360-1270
barblovell@hotmail.ca
-30-