LTVCA Watershed – The Lower Thames Valley Conservation Authority (LTVCA) is pleased to be hosting three student coop positions this spring!  Longwoods Road Conservation Area staff near Mount Brydges are training two students and our staff at the Administration Building in Chatham are sponsoring one.  Supporting student coop programs through secondary schools, colleges and universities provides the Conservation Authority with increased capacity – enabling important research and development for our conservation programs.  In return, local students receive valuable work experience in office and field situations working alongside senior conservation staff, as well as health and safety training for their particular jobs.
Meet our students in training: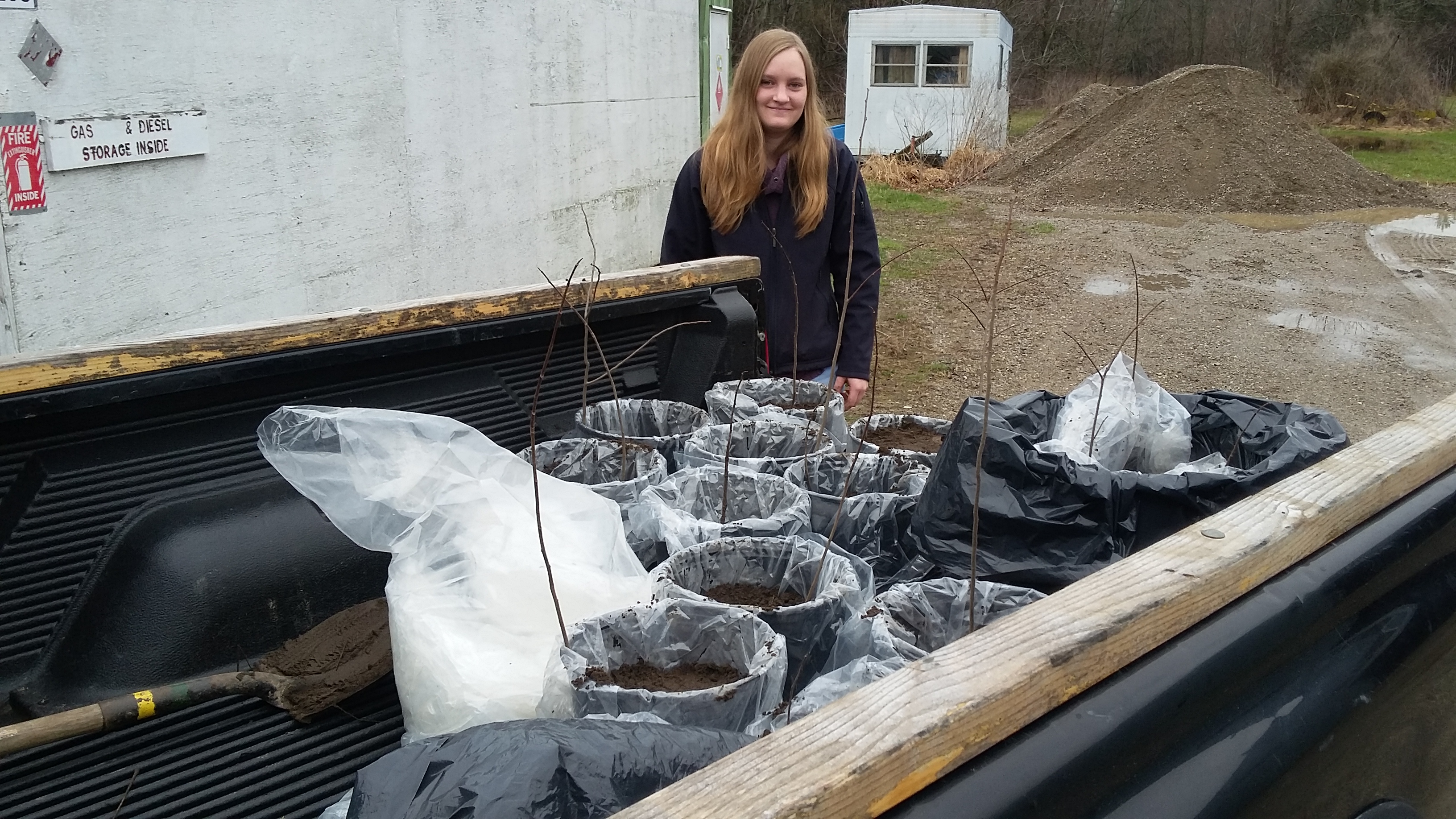 Morgan Squire, a grade 12 student from Glencoe District High School, is helping Longwoods Road Conservation Area during this spring semester until June. She will be gaining experience with native gardens, trail maintenance, tree identification, wetland evaluation, crafts, school groups, bluebird and southern flying squirrel nesting box repair and installation.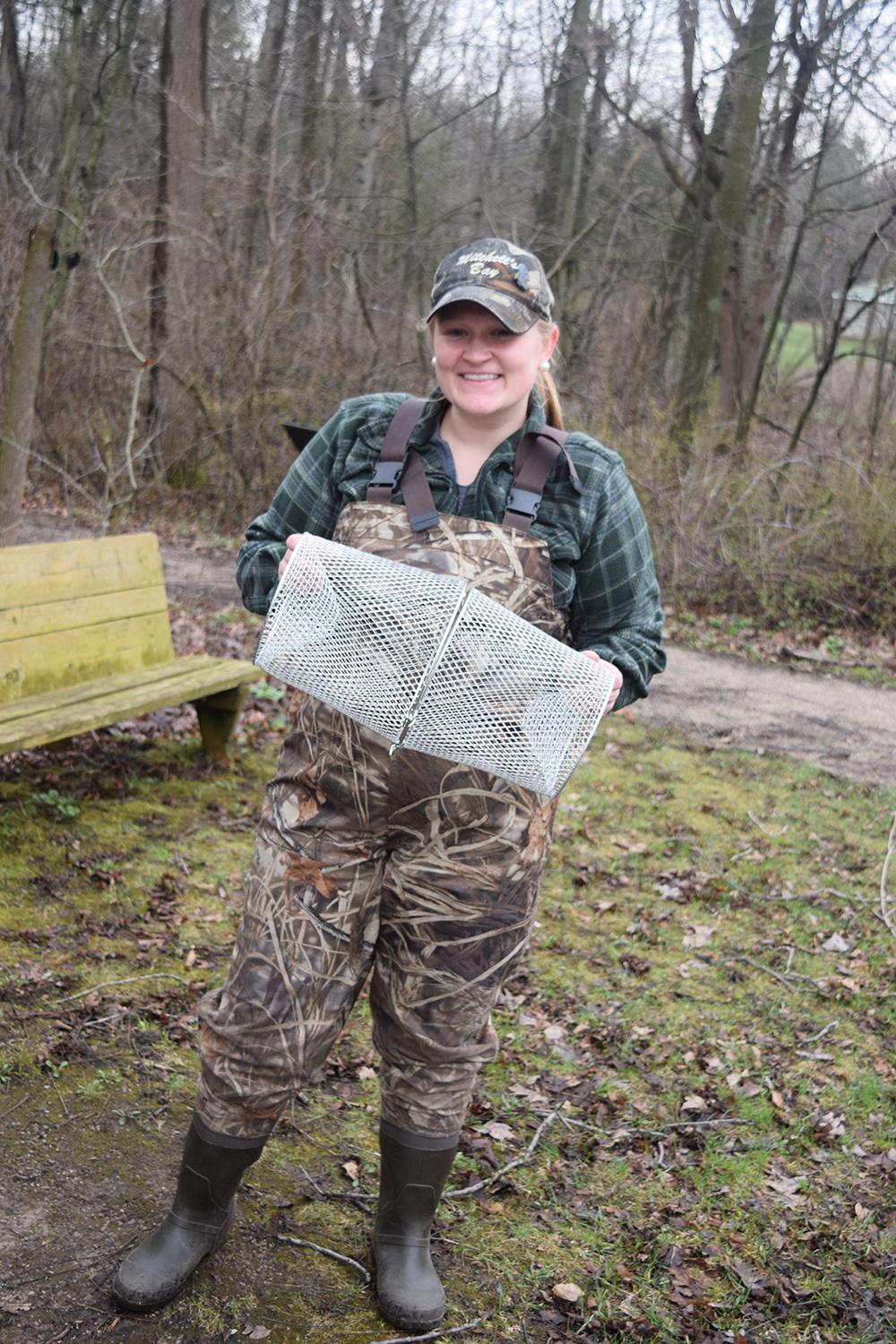 Amber Frak is on a two-week co-op placement from Fleming College, Frost Campus Fish and Wildlife Technology Program. She is surveying a wet area at Longwoods Road Conservation Area, identifying benthic invertebrates, amphibians and fish species present.  "I have really enjoyed being able to work outside every day!  It has also been a great opportunity to apply the skills and knowledge I have learned in school as well as gain new experiences such as working with the Trimble, " explains Amber. Trimble Inc. makes the equipment that delineates boundaries and elevations based on GPS readings.  Amber will determine if any Species At Risk are present in the area from her findings. The Trimble unit will map out the full extent of the current wet area in the stream ravine, and her data will project future water levels here.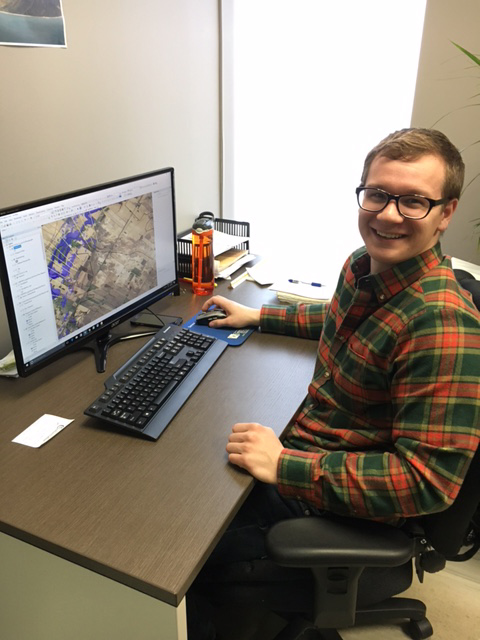 Eric Rempel is on a four-month co-op placement from the University of Waterloo, in the Planning program. He is a GIS Technical Assistant working on mapping and analysis for the LTVCA at the Chatham office.  "Working for the LTVCA has been a great experience so far. Not only am I gaining skills with GIS, but I am also learning more about conservation and the roles that Conservation Authorities play in the community," says Eric.  He will be producing maps for the Regulations and Planning Department, GLASI, and the Greening Partnership, and will be gaining important experience in GIS and database management.  Regulations, planning and conservation services will use this data.
The LTVCA has sponsored coop students for many years and hopes to continue into the future.  We appreciate these valuable relationships.
For Further Information:
Lower Thames Valley Conservation Authority
519-264-2420