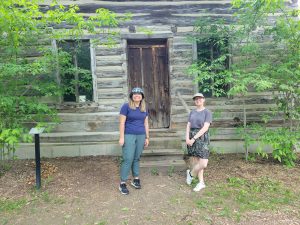 Leeanne Doxtator – LTVCA Community Educator (left) and Alison Klages – Curator Ska-Nah-Doht Village and Museum (right), are excited to share their knowledge with over 2,300 students, youth, teachers, leaders, and  chaperones this spring at Longwoods Road Conservation Area!
Mount Brydges – It's been a long 2 years of missing the sights and sounds of students and youth groups enjoying our outdoor adventures, but Longwoods Road Conservation Area and Ska-Nah-Doht Village are once again welcoming busloads of excitement!  LTVCA's educators – Alison and Leeanne make a great team, and are happy to meet and greet the classes and community youth groups booked in for the variety of Indigenous and conservation programs.
The Ska-Nah-Doht Museum/Resource Centre is a 'must see', with brand new exhibits, artifact displays and the one of a kind 'Turtle Trail Gift Shop'!  Outside, the 63 hectare (155 acre) conservation area offers 10 km of nature trails (some wheelchair accessible) winding through Carolinian forests, an Arboretum, provincially significant wetlands, and tallgrass prairie – perfect habitats for visitors to become 'one with nature'.  A pavilion provides shelter and tables for a spot to enjoy an outdoor picnic, winding up a great morning or in preparation for the afternoon adventures!
Between mid-April and the end of June, over 2,300 individuals will learn about area First Nations communities of 1,000 years ago, make traditional tools and games, maybe even craft a clay pot!  Environmental programs offer lessons in our nature habitats, eco-games, bird studies, and searches for bugs and pond critters!  Groups come from as far away as Windsor, and as close by as Delaware and Mount Brydges.  Whereever you call home, we welcome you to share our space!
Once school is out, summer will be in full swing with community groups enjoying the same offerings, so give us a call to see what is happening in July and August!  Don't forget about our summertime 'Twilight Tuesdays' hikes, and July's Artifact Day!  Details are on our Events page of our website https://www.lowerthames-conservation.on.ca/about-us/events/. Longwoods Road Conservation Area is a must see for your summer guests, so check us out at www.ltvca.ca!  The Conservation Area grounds are open daily from 9 a.m. until sunset.  The Museum is open from 10 a.m. to 4 p.m. on weekends, statutory holidays to Thanksgiving, and most days during the week (when we aren't outside sharing our knowledge!).  Day use parking is $5 or use your 2022 LTVCA Parking Pass.  Directions:  8348 Longwoods Road, Mount Brydges, just a half our west of London or 1 hour east of Chatham!  Call 519-264-2420. Email [email protected]  Follow us on Facebook, Twitter, Instagram and YouTube!  We hope to see you soon!
-30-