Media Release – Sept.16, 2022
Charing Cross / Blenheim, ON  –   The Lower Thames Valley Conservation Authority (LTVCA) has partnered with Red Barn Brewing Co. to create a unique natural setting, where visitors can reserve private fire pit areas while enjoying a local beverage of their choice.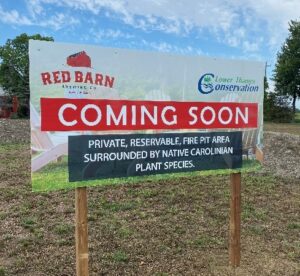 This fall, LTVCA and Red Barn Brewing staff will be leading area students to plant the site in Carolinian species trees and shrubs, as well as native grasses and wildflowers.
Red Barn Brewing co-owner Denny Vervaet says – "There is still lots to do, but we plan on launching this 'experience' late summer of 2023. It was a no-brainer to partner with LTVCA on this collaborative project, where nature and beer are combined into a unique setting."
The concept of the private fire pit areas will be to reconnect with family, friends, and co-workers. Once the project is complete, online reservations of these private areas will be available.
Randall Van Wagner, Manager of Conservation Lands and Services at LTVCA –  "It is always rewarding to get trees planted, this project takes it a step further with the educational component of having many people learn about our unique Carolinian Zone Species here in Chatham-Kent."
About Red Barn Brewing Co.
Red Barn Brewing opened in July of 2020 and has quickly become a tourist destination and local landmark for its massive tap room made with reclaimed barn board from the original Red Barn. As well as the indoor barn space, Red Barn's outdoor Farm Patio allows guests to sample a wide array of beer styles in the rural farm setting. Red Barn also hosts many community events, concerts, comic nights, trivia, and much more all year round!  Red Barn is open Thursday to Sunday.
For Further Information Contact:
Randall VanWagner – Manager Conservation Lands and Services – LTVCA
519-354-7310 ext.230
Email   [email protected]
Lower Thames Valley Conservation Authority, 100 Thames St., Chatham, On N7L 2Y8