"Conservation Authority Budget Approved for 2019"
LTVCA Holds Annual General Meeting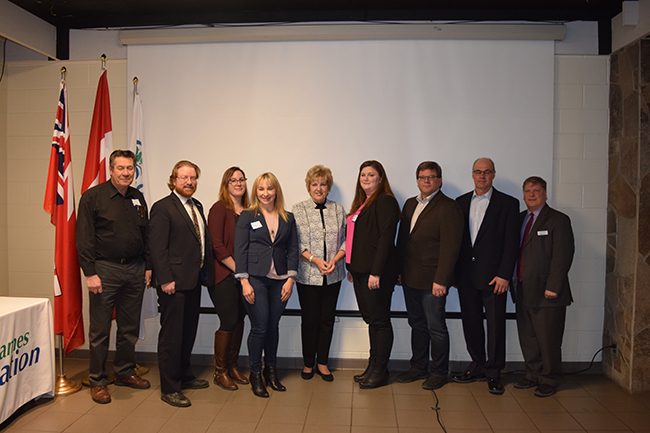 Ridgetown – The Lower Thames Valley Conservation Authority (LTVCA) held its Annual General Meeting (AGM) on February 21 at the University of Guelph Ridgetown Campus in the Municipality of Chatham-Kent. Linda McKinlay was elected as Chair and Trevor Thompson as Vice-chair for 2019. Mrs. McKinlay is a Municipal Councillor for the Town of Lakeshore and Mr. Thompson is a Municipal Councillor for the Municipality of Chatham-Kent.L
The 2019 budget of $3,205,524 received approval at the AGM. The budget represents an increase of $26,087 or 0.82% in overall spending in comparison to the 2018 approved budget of $3,179,437. The corresponding increase in the municipal levy is $28,113 or 1.75%. The 10 member municipalities of the Lower Thames Valley Conservation Authority include Chatham-Kent, Dutton Dunwich, Lakeshore, Leamington, London, Middlesex Centre, Southwest Middlesex, Southwold, Strathroy-Caradoc and West Elgin. Chatham-Kent appoints three representatives to the LTVCA Board while the remaining nine municipalities appoint one representative each for up to a four year term.
Guest Speaker at the meeting was Mr. Kelly Riley – Lands and Environment Director from Chippewas of the Thames First Nation. He was followed by the LTVCA Conservation Awards. Environmental Awards were presented to Raechelle Chatterton, and TD Branch 11. The "LTVCA Awards for Volunteer Heroes" were received by John Cofell, John Lawrence, Rick Taves and posthumously to Ronald Watts by Glenn Stott.
The 2018 Annual Report emphasized the benefits of the investment in the flood control structures of the lower Thames watershed and the monitoring of watershed conditions over the past year. Sixty-five flood bulletins were issued, 28 media releases published and 31 provincial water quality monitoring sites were operated. Additional highlights of the year included the LTVCA undertaking 2,520 regulatory and municipal plan review services, the provision of $1.3 M of stewardship grant assistance to 179 landowners, the planting of 92,189 trees, and the natural restoration of 83 hectares. Over 6,000 thousand students engaged in the LTVCA's education programs, nearly 15,000 people enjoyed camping at four conservation authority campgrounds and 30 public events were held in LTVCA conservation areas in 2018. Also recognized were the more than 370 volunteers who gave over 950 hours of their time and the 27 funding partners of the Conservation Authority that provided an additional $1.55 M for watershed conservation.
During the meeting the LTVCA recognized the work of volunteers and past board members but it also looked forward to the work to be done.
Mark Peacock CAO / Secretary/Treasurer of the LTVCA stated that "the two main issues facing this watershed are to reduce the discharge of phosphorus into Lake Erie through our watercourses, and to proactively plan for the impacts climate change will have on our watershed. Addressing these challenges requires the Conservation Authority to work cooperatively with our watershed community, and in particular with private landowners who manage most of the area's land."
In the words of Chair Linda McKinlay "I am proud to be re-elected as Chair of the LTVCA. 2019 is a watershed year for the Lower Thames Valley Conservation Authority. We say good-bye to 10 out of 12 board members, members who have served the community well, and we welcome 10 new board members. There is work to do with new and energetic people to do it. I look forward to what we will accomplish."
For further information, please contact:
Mark Peacock, CAO / Secretary-Treasurer
Lower Thames Valley Conservation Authority
Tel: 519-354-7310 (Administration Office)
[email protected] www.ltvca.ca