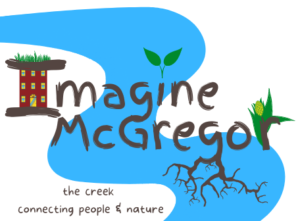 The Goal of 'Imagine McGregor'
The purpose of the 'Imagine McGregor' initiative is to improve the ecological health of the McGregor Creek sub-watershed of Chatham-Kent through community involvement in habitat creation and stewardship.  We encourage local citizen engagement at events and through volunteer opportunities as we share information about why this sub-watershed is important through our social media.  Promotion of Low Impact Development (LID) within the sub-watershed, specifically in the urban setting will help improve McGregor Creek, as natural habitat increases and the health of this sub-watershed improves!
Why is the McGregor Creek Sub-Watershed Important?
The McGregor Creek sub-watershed is of great importance to the whole Lower Thames Valley watershed.  This creek flows into the Thames River, and its waters ultimately enter the Great Lakes via Lake St. Clair.  The source of McGregor Creek is in Highgate and Ridgetown and it collects water from 284 km2, flowing into the Thames River in downtown Chatham.  The McGregor Creek sub-watershed provides habitat for species at risk, and is home to these at-risk mussel species:  Mapleleaf, Purple Wartyback, Round Hickorynut and Round Pigtoe.
McGregor Creek has a major impact on the flooding that occurs in the City of Chatham.  With more erratic storms on the horizon due to climate change, flooding is becoming a major concern for many residences of the sub-watershed, both rural and urban.  Erosion will also affect the farming community in the years to come.  Since McGregor Creek is a bridge between urban and rural communities, the creek can be negatively and beneficially impacted by the actions of both communities.  Things like shoreline hardening in the city limits makes water move faster.  Water needs opportunity to slow down and have someplace else to go!  Natural habitats are possible to create inside the city limits and strategic native plantings can slow intense storm waters.  Natural features can be created like prairie buffer strips, wider riparian areas, woodlots, and wetlands.  These habitats will slow the water, allow it to collect and then penetrate into the soil.  Ground water will be regenerated, instead of rushing to downtown Chatham.
Historically, wetlands dominated the McGregor Creek sub-watershed landscape.  Now there is only 1.9% of the land being used as wetland habitat (McGregor Creek Aquatic Threat Assessment, 2020).  We need to create a healthier watershed.  This can be done by restoring habitats which will act like filters before the water even enters the tributary. Did you know that natural habitats filter out excess nitrogen, dissolved phosphorous and protect the aquatic ecosystem from pesticide and herbicide residues?  Natural habitats will also reduce the amount of soil particles washed away with the rain that cloud up the river and carry sedimentary phosphorous.
It is recommended to have at least 6% of a sub-watershed as wetland habitat (Environment Canada, 2013).  Along side the streams, there is need for projects to be completed.   There should be a 30m riparian buffer zone, with natural vegetation on both sides, 75% of which should be native plants.  Ideally about 50% of that natural vegetation should be native tree cover for the ecosystem to have excellent health.  There should also be a maximum of 10% impermeable land cover, such as hardened shorelines, to maintain high water quality and habitat for creatures like mussels who help improve that quality (Environment Canada, 2013).  Currently, the riparian shading of the sub-watershed rests at about 7% (McGregor Creek Aquatic Threat Assessment, 2020).  By working on these improving these situations, there will be less runoff to contribute to algal blooms and bacteria levels in the Thames River.  Water quality will improve!
We need your help to reach these targets!  We will gradually work towards the habitat levels in these recommendations and gain momentum in the number of projects and project sizes.  Our 2021-2022 goals for habitat implementation are: 4 acres of tall grass prairie planted, 5 acres of trees planted and 3 wetlands implemented!
How Can I Help?
We invite you, the community, to become invested in the health of your local creek and help in its restoration!  Join us in 2 river cleanup events throughout the year. Help beautify the creek, and eliminate litter in this ecosystem.  Experience the thrill of becoming a part of the improvement of the health of the creek; be part of the ongoing stewardship of this area!  We are looking to partner with urban stake-holders to complete urban community projects in the sub-watershed.  We look forward to working with businesses, clubs and individuals excited about planting prairie seeds and plugs, as well as trees along the riparian area near the creek at 3 community plantings.  Native plants will be used for Low Impact Developments (LIDs) in the area, and we hope to have at least 1 LID completed this year!  With the beautification and regeneration of the McGregor Creek ecosystem, we will be creating a habitat corridor in this sub-watershed that connects existing isolated habitats.  We could even add the creation of a canoe trail for people to enjoy the creek, and that will give easier access to future cleanups.  Let's work together and improve the health of one of our local ecosystems – the McGregor Creek!
September 2 – Cultivating Conservation Tour
Join us from 3-6pm touring the countryside to visit past projects, conservation areas and demonstrations to learn and enjoy the nature found in your area! The tour ends at Red Barn Brewery at 6pm and from then until 8pm there will be a speaker and food, not to mention the craft beer!
RESCHEDULED TO OCTOBER 9 DUE TO FLOODING  – Thames/McGregor Paddle Clean up
Media Release – CK Paddle and Clean a Huge Success!
Calling all canoers, kayakers and shoreline walking citizens! We are hosting a cleanup of the Thames River and McGregor Creek, collecting all the litter that you can carry.
Registration is mandatory through Eventbrite for this awesome paddling event. Bring your kayak or canoe to help collect litter from our waterways. Maximum 75 participants. If you would like to register, please follow this link: https://www.eventbrite.ca/e/ck-paddle-clean-registration-168764159143
Everyone must wear a PFD and have the proper canoe/kayak safety gear. Please bring your own reusable water bottle and a lunch if you plan on staying the entire time. Bring your own gloves and have a mask handy-just in case.
Volunteers from the Rotary Club of Chatham Sunrise will be helping check you in at the Thames Grove Conservation Area – 34 Kingsway Drive in Chatham.  Thanks to their volunteers for supporting the Imagine McGregor Initiative (see their Clean Water for Living website). At this Municipal Park there is a great boat launch and docks where the boats can go right into the Thames River. At 'check-in' we will be providing you with garbage collection bags donated by Lloyd Bag Co. Once you've filled your bag, return to the Thames Grove launch area to throw out the trash. We will have garbage and recycling bins on site. At 'check-out' when you are finished, receive your locally made, hemp fabric t-shirt – donated by Stronghouse Twin Dolphin Corp! Near the 'check in/out' area you can also view displays, tell us where you've collected your litter and learn about the LTVCA's 'Imagine McGregor' project.
If you collect the most litter individually, you will earn a free 2022 LTVCA Conservation Area Parking Pass! If you are signing up as a business, please have everyone who is joining your team sign up individually. The business team that collects the most litter will earn a free, full-page ad in the 2022 LTVCA Conservation Area Guidebook, as well as each individual participant will receive a 2022 LTVCA Conservation Area Parking Pass! All current, local COVID-19 health guidelines will be adhered to at this event.
Stay tuned for future upcoming events!
Contact Us!
Are you interested in learning more? Do you want updates on events? Have an idea for a project? Let us know!
Click to Learn More
Follow us!