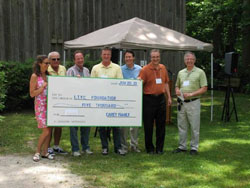 Strathroy-Caradoc
June 20, 2010 was the Official Opening of the unique Carey Carolinian Arboretum and Trail. As a result of a very generous donation valued over $26,000 from Lewis Stafford Carey MD in 2008, a new Carolinian arboretum and trail is growing at Longwoods Road Conservation Area, just west of London in the Municipality of Strathroy-Caradoc. On June 20, 2010, the Lower Thames Valley Conservation Authority and the Lower Thames Valley Conservation Foundation recognized and celebrated with the Carey Family, all project partners and donors. Approximately 70 guests attended the event. In addition, the Carey Family presented a $5,000 cheque from the estate of their father at the official opening followed by the official ribbon cutting.
The late Dr. Lewis Carey presented his vision of a Carolinian arboretum to the Lower Thames Valley Conservation Authority and Lower Thames Valley Conservation Foundation in 2006. He was inspired by a book on Carolinian forests upon his return to London, Ontario in the early 70s. Dr. Carey was aware of our areas First Nations pre-history and how it was being depicted at the Ska-Nah-Doht Village and Museum at Longwoods. This prompted him to support a project to emphasize the connection between the precious Carolinian forest habitat and the local people.
The Carolinian Life Zone, is a region rich in rare and unusual plant and animal species found nowhere else in Canada. Longwoods is located within this region. The Carey Carolinian Trail and Arboretum will increase environmental awareness about Carolinian species and serve as an ecological classroom. It will be a living botanical museum of Carolinian ecology for today, as well as a lasting legacy for present and future generations. These trees and plants will be important seed producers for years to come.
With London expanding towards Longwoods, Dr. Carey felt that the Carolinian arboretum and trail project would have a good audience of adults and children visiting the property and present a huge marketing opportunity for the conservation area. Longwoods would be the nearby resource to come to see and learn about Carolinian trees. He also felt that in time, a Carolinian arboretum could provide valuable seeds for study and propagation at local universities and colleges. In Dr. Careys words, … the whole point is to have a winding trail in a Carolinian forest with plants and trees planted over time, and (it) could have various secure bird houses in areas…students can see all the birds and animals. Trails will have special surfacing for good drainage to allow optimum accessibility. The trees would be of various sizes, some small and some a good size with arboretum signage identifying the Carolinian species and their attributes. The arboretum shouldnt be so big that kids cant manage it. In addition, Dr. Carey donated a significant supply of timber beams for the construction of an information kiosk in the later project phases to highlight Carolinian trail and arboretum brochures and postcards. Fund-raising for this phase is still ongoing.
Taking his wishes into consideration, the Carey Carolinian Trail and Arboretum is now growing. An existing trail system at Longwoods has been modified with a new extension blazed, and resurfacing has created a beautiful, winding, wheelchair accessible trail. Nesting boxes for Carolinian birds and mammals have been placed along the trail. Nearby, an open area beside our 3 heritage log cabins showcases flowering tree species. Arboretum signs accompany 42 species of Carolinian trees and shrubs, providing the scientific names of the species, unique features, and their historical and present day importance to the residents of the Thames River watershed.
The Carolinian species of mature trees, large stock trees and seedlings which are growing along the trail system and plaqued are:
Basswood, Beech, Yellow Birch, Bladdernut, Black Walnut, Blue-beech, Burning Bush or Wahoo, Butternut, Buttonbush, Canada Plum, Cherry, Black, Chestnut, Cottonwood, Eastern Cucumbertree, Flowering Dogwood, Pagoda Dogwood, Eastern White Cedar, Slippery Elm, Northern Hackberry, Hawthorns, Bitternut Hickory, Shagbark Hickory, Hop-hornbeam, Kentucky Coffeetree, Sugar Maple, Red Maple, Maple-leaf Viburnum, Nannyberry, Red Oak, Swamp White Oak, White Oak, Pawpaw, Redbud, Sassafras, Serviceberry, ,Spicebush or Benjamin Bush, Staghorn Sumac, Sycamore, Tuliptree, Witch-hazel, White Ash
Carey Carolinian Arboretum and Trail Project phases included:
Survey of native and non-native trees – complete
Design trail layout – complete
Assessment of risk – complete / ongoing
Removal of hazard trees near trail – complete / ongoing
Resurface existing trail and blaze new trail section – complete
Order and plant new Carolinian trees and shrubs – complete
Control of non-native tree and plant species – ongoing
Carey Carolinian Trail and Arboretum brochure – complete
Arboretum interpretive plaques – complete
Official opening June 20, 2010
Construct information kiosk future
Partnering organizations assisting with this project so far include:
Lower Thames Valley Conservation Authority project management
Lower Thames Valley Conservation Foundation project support
TD Canada Trust Friends of the Environment Foundation (Lambton Chapter) brochure funding
Katimavik planted Carolinian 450 seedlings in May 2009
Employment Ontario – labour
Trail development was undertaken by Mark and Earl Livermore.
Private donors supporting this project so far include:
The late Dr. Lewis Stafford Carey
Dr. Hugh Allen
Grant and Barbara Baxter
Dr. Douglas Bocking
Mark Carey
Richard and Bonnie Carey
William Carey
T. Brayl Copp
Rita Davis
Lea Ducharme
Dr. Edward Dundas
Shirley Fricke
Bruce Groves – Bank of Montreal
Hatherell Carey LLP
Dr. Linda Hutton
Mary Ellen Kirk
Dr. Liliane Le Saux and Bill Warmels
Sherrill and Earl Livermore
Doug and Mary MacKenzie
Jackie McComb and George Deblock
Dr. Jeffrey A. Nisker
Lynne Page
Dr. and Mrs. David Pressey
Sharon Riley
Schulich School of Medicine and Dentistry – Department of Obstetrics and Gynaecology
The University of Western Ontario – Human Resources
Marg and Peter Warmels
Contact Us for more information