C.M. Wilson Conservation Area
The Lower Thames Valley Conservation Authority acquired this 30 hectare property in 1967. The park was named after a former Chair of the Board of Directors, Clarence Michael Wilson.
Check out our latest YouTube video clip of C.M. Wilson Conservation Area!
General public day use visitors please pay admission at the Pay and Display machine located at the entrance to the park – coin or credit card only.  Display ticket on vehicle dashboard.  Thank you for supporting this conservation area!  
Note:  Camping, pre-booked education program and other program/facility rental fees different fee schedule.
Conservation Areas Fee Schedule 2018
Download C.M. Wilson Conservation Area Brochure
Directions
As of April 18th the Hwy 40 overpass will be out of commission, being demolished with a new overpass rebuilt in its place, hopefully completed by November.  C.M. Wilson Conservation Area is located at 21799 Fargo Road. Located 8.5 km south of Chatham. Here are the alternate directions while construction is underway:  To get to the CM Wilson Conservation Area for day use or camping purposes from the 401, take the Bloomfield exit and head south on Bloomfield Road.  Turn left onto 8th Line (Eighth Line).  When you get to the stop sign, turn right onto Charing Cross Road and head south.  Turn left onto Horton Line, then left onto Fargo Road just before the railway tracks.  Go to the end of Fargo Road and CM Wilson Conservation Area is on the right hand side.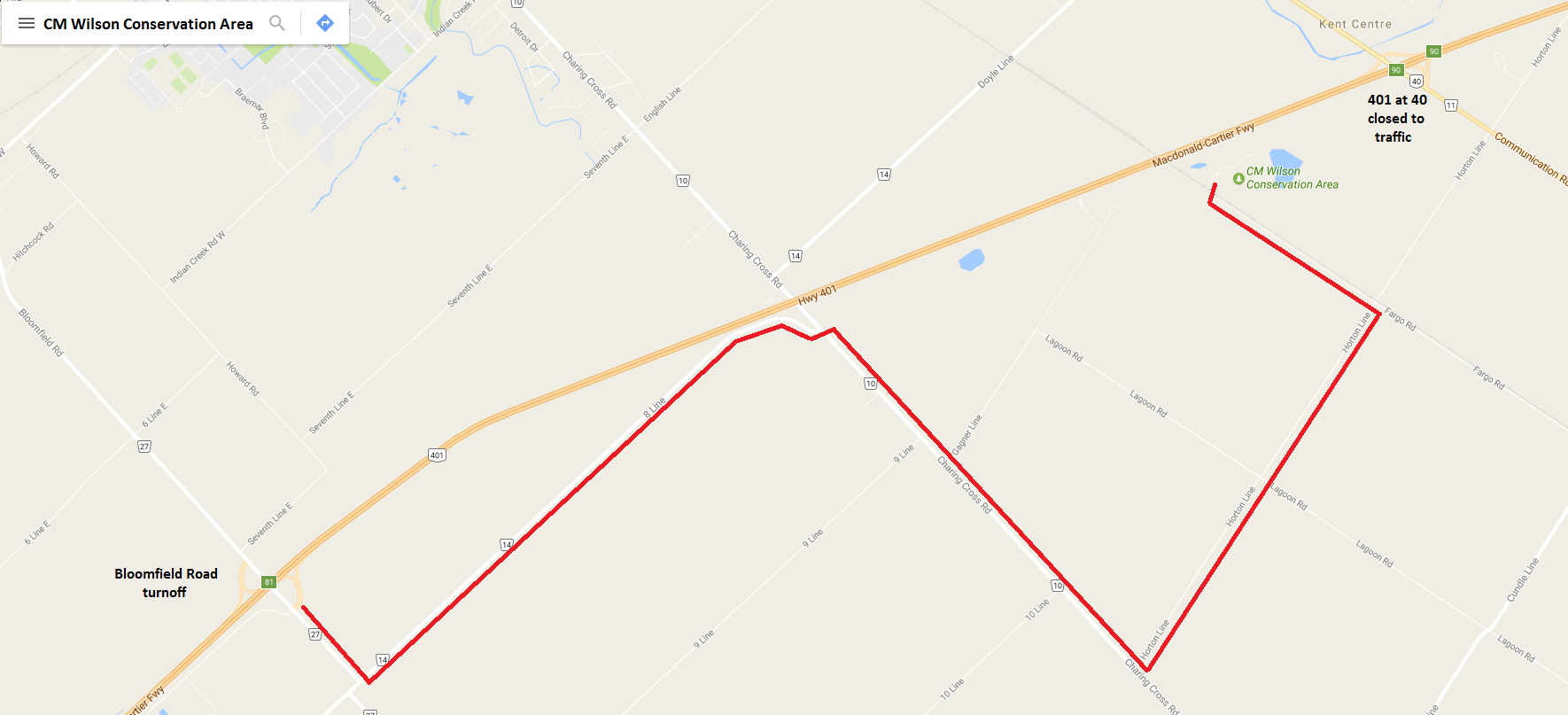 Coordinates
Lat/Long 42.375, -82.107 UTM 408840, 4692030
Features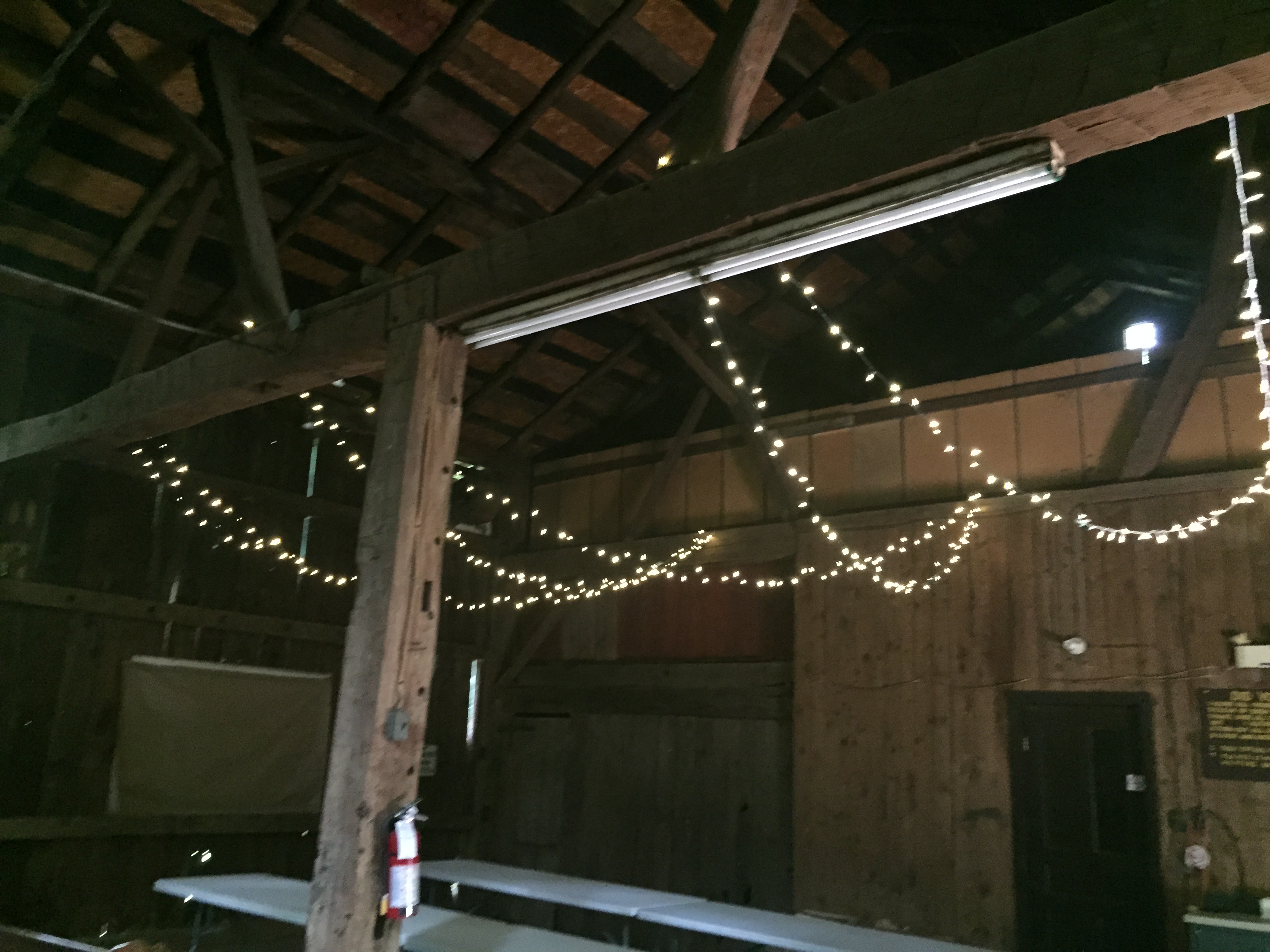 Barn Pavilion Rental available.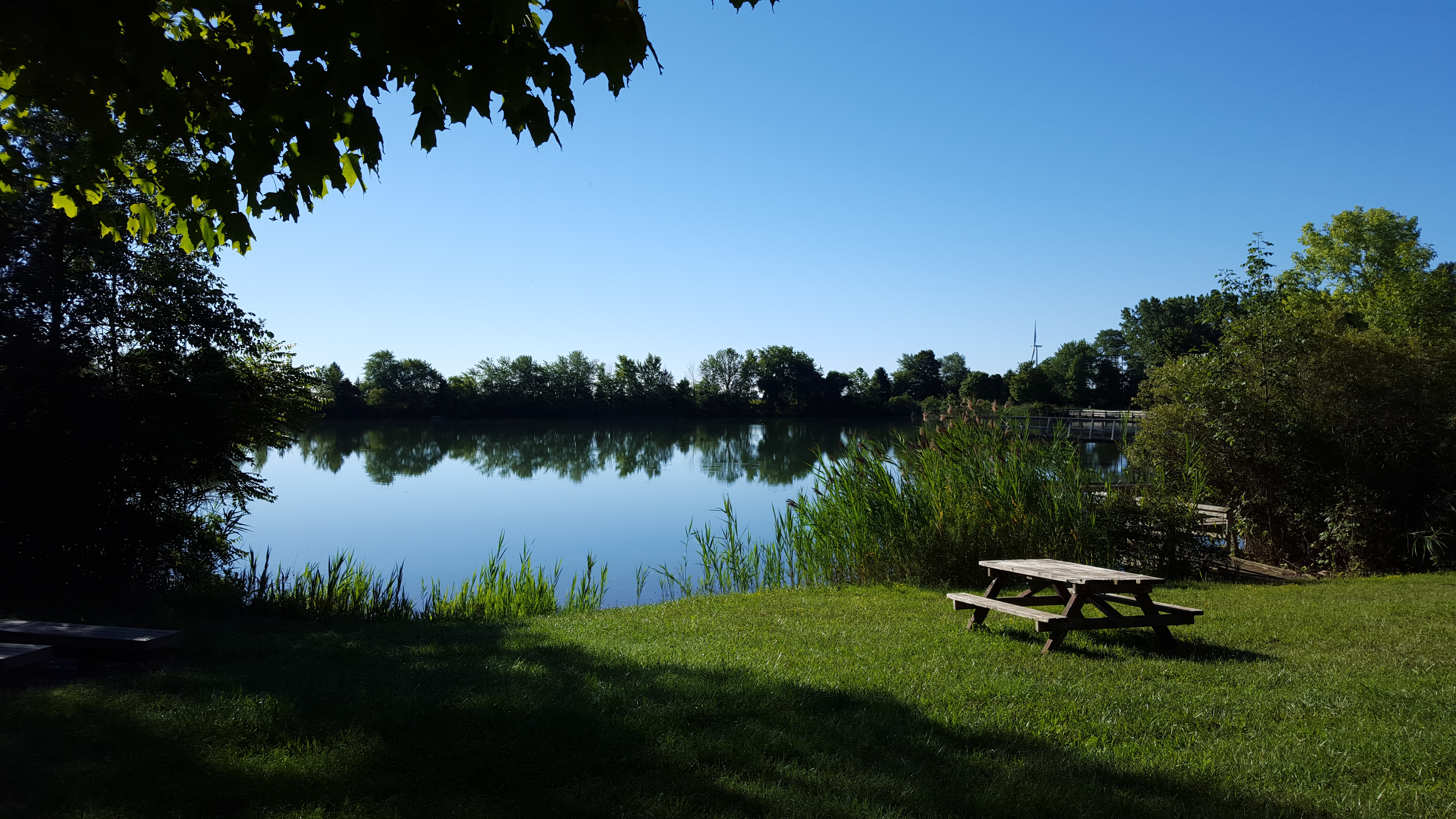 Beautiful Day Use areas.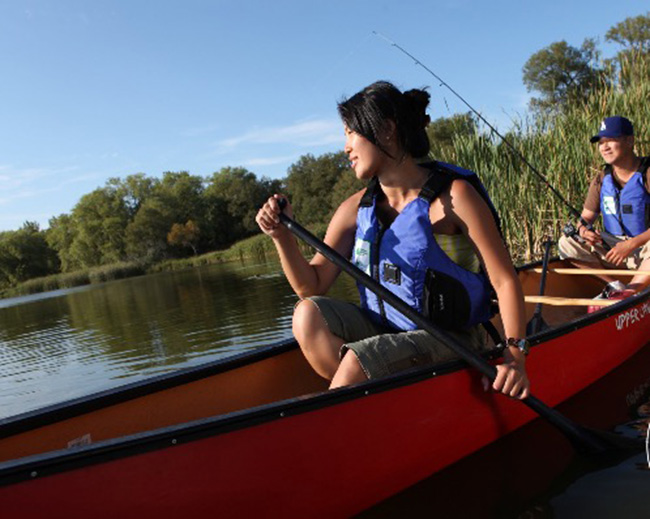 Canoe Rentals available.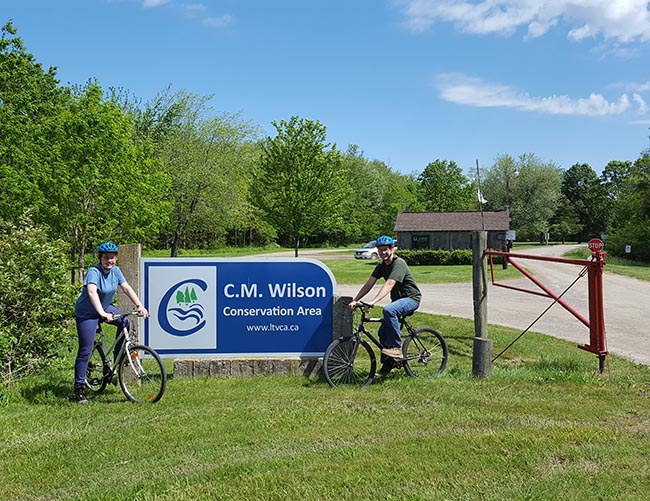 Bike Rentals available.
Camp at one of 100 sites, available with hydro, hydro and water, or unserviced. Two group camp sites are also available for larger groups. Sites are available for nightly, weekly, and monthly rates. There are also sites available for season-long camping, with availability to store trailer on seasonal site over winter. For camping fees click here.  Washroom facilities are fully serviced with showers.
Picnic tables are available throughout the park and organized groups can book the pavilion, or hold special events year-round in our rustic barn (see photo above), from family gatherings, to weddings, to school functions. Enjoy the new children's adventure playground, new outdoor class room, fishing, sailing, canoeing, and nature trails. Most facilities are wheelchair accessible.
Soft drinks, snack foods, and assorted supplies are available for purchase at the gatehouse.
Other key features include:
•   Conservation Education Programs

General Inquiries:
info@ltvca.ca
519 354-7310 year-round
519 351-3919 summer gatehouse (Please leave a message if closed).
When Are We Open?
Day Use:  Year-round from 8 a.m. to sunset daily. This is a Pay & Display park, machine for parking permit purchase is located at the gatehouse.
Campground:  Open Victoria Day to Thanksgiving
Reservations:  519-351-3919
Gatehouse / Park Store / Rentals:
(Victoria Day weekend – Last Friday of June)
Friday 1:00 p.m. to 9:00 p.m.
Saturday 12:00 p.m. to 8:00 p.m.
Sunday 12:00 p.m. to 4:00 p.m.
(Last weekend in June – Labour Day)
Monday to Thursday 1:00 p.m. to 7:00 p.m.
Friday 12:00 p.m. to 9:00 p.m.
Saturday 11:00 a.m. to 8:00 p.m.
Sunday 12:00 p.m. to 4:00 p.m.
Natural Features
McKinlay Woodlands Memorial Forest is located in the C.M. Wilson Conservation Area. Hundreds of trees are planted in memory of loved ones every year, supported by McKinlay Funeral Homes Ltd.
Enjoy canoeing, fishing, or the scenic view of the man-made lake, a small Carolinian forest, and natural wetland area. There are also nature trails throughout the park, showcasing nature and wildlife.
No Hunting.
Conservation Areas are NOT off-leash dog parks. ALL DOGS AND PETS MUST BE LEASHED. UNLEASHED PETS ARE A FINEABLE OFFENCE. CLEAN-UP AFTER YOUR PET! Section 10.-(2) and (3) Under the Conservation Authorities Act.
CM Wilson Conservation Area is also home to the Chatham-Kent Children's Safety Village.
Address
21799 Fargo Road
Blenheim
Ontario


Canada
Upcoming Events
No events in this location